Digital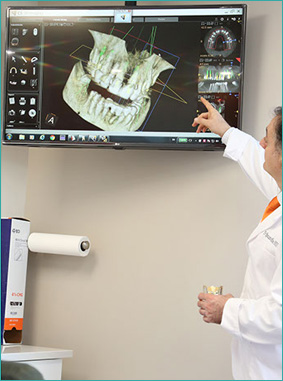 Digital X-Rays
Digital X-rays help in the diagnosis and treatment of many dental procedures. They illustrate bone height, bone defects, infection, root involvement, tartar, tooth decay, and more. Digital X-rays are also beneficial in determining if gum disease is progressing or if arrested.
Here in Ottawa, Dr. Plieva and Dr. Pliev realize the benefits for our patients when utilizing our digital X-ray system. A digital X-ray allows for quick on-screen reference to facilitate your understanding of any areas of concern. As well, digital X-rays allow for minimal exposure time with 80% less radiation than conventional X-rays.
Digital X-rays are scanned into our computer, allowing for the images of your teeth, supporting bone and gums to be large and crisp, stored in your file for future reference. Digital X-rays are faster, safer, and environmentally friendly.
Please feel free to speak to either Dr. Plieva, Dr. Pliev, or anyone of our K&K Dental Studio team members on how this amazing technology allows us to bring patient care to a higher and improved level for you and your family.
Digital Impressions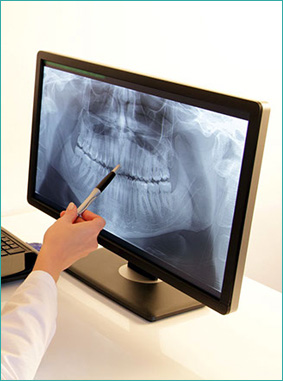 Digital impressions represent cutting-edge technology that allows dentists to create a virtual, computer-generated replica of the hard and soft tissues in the mouth using lasers and other optical scanning devices. The digital technology captures clear and highly accurate impression data in mere minutes, without the need for traditional impression materials that some patients find inconvenient and messy. Many patients find digital impressions an easier and more comfortable procedure because traditional impression materials are avoided. The impression information then is transferred to a computer and used to create restorations, often without the need for stone models.
Types of Digital Impression Technology
There are two types of digital impression technology currently available for dentists to use. One type captures the images as digital photographs, providing dentists and dental laboratories with a series of images; the other type captures images as digital video.
The images can be captured using lasers or digital scanning. Laser scanning uses concentrated light that is safe and highly precise. It captures all of the details of the teeth and gums while eliminating the patient's need to hold unpleasant, distasteful material in his or her mouth. Digital optical scanners also are safe and highly accurate, but require teeth to be powder-coated with a special spray before scanning to ensure all parts of the impression are recorded properly.
Please feel free to speak to either Dr. Plieva, Dr. Pliev, or anyone of our K&K Dental Studio team members here in Ottawa if you have any question regarding digital impressions.